TruSculpt
At The New U Clinic in Nanaimo, we use TruSculpt to blast away stubborn fat. Getting rid of body fat can be troublesome. Even with diet and exercise, some pockets of subcutaneous fat just won't go away. These pockets, known as stubborn fat, are sometimes genetic and a medical treatment may be the best option to get rid of them.
What is subcutaneous fat?
Subcutaneous fat, also known as stubborn fat, is the fat that you can see that lies directly beneath the skin. Commonly found in the stomach area, subcutaneous fat also gathers around the love handles, beneath the chin, and around the back.
What is TruSculpt?
TruSculpt is a non-surgical, non-invasive body contouring treatment. Using innovative RF technology, the TruSculpt applicator reduces stubborn fat using heat. The procedure, being non-invasive and non-surgical, is a great alternative to plastic surgery.
How does the treatment work?
The TruSculpt applicator uses heat to blast away stubborn fat cells. By using the applicator to deliver heat to the entire fat layer, the heat breaks down the fat cells. Then, they are eventually eliminated naturally through the lymphatic system. These fat cells are gone for good, however, new cells may grow in their place. So, it's important to be willing to maintain a healthy diet and exercise plan to keep new fat cells from forming.
Is the treatment painful?
Since the treatment is non-invasive and non-surgical, patients report virtually no pain. The heat should maintain a comfortable level, and, if at any time you feel discomfort, you should let Dr. Ute Bucksteg know.
What can TruSculpt treat?
TruSculpt can treat many different areas depending upon the applicator. The most common treatment areas are:
upper back
flanks (love handles)
abdomen
under the chin
Are there any side effects?
Because the procedure is non-invasive and performed at a mild temperature, there are little tono side effects. In rare instances of side effects, patients have reported redness and tenderness.
How long does the procedure take?
A single treatment can last 15 minutes to 1 hour. However, full treatment times depend upon how many areas are being treated within one session. Generally, a few sessions, spaced strategically apart, are recommended for optimum results.
Before and after photos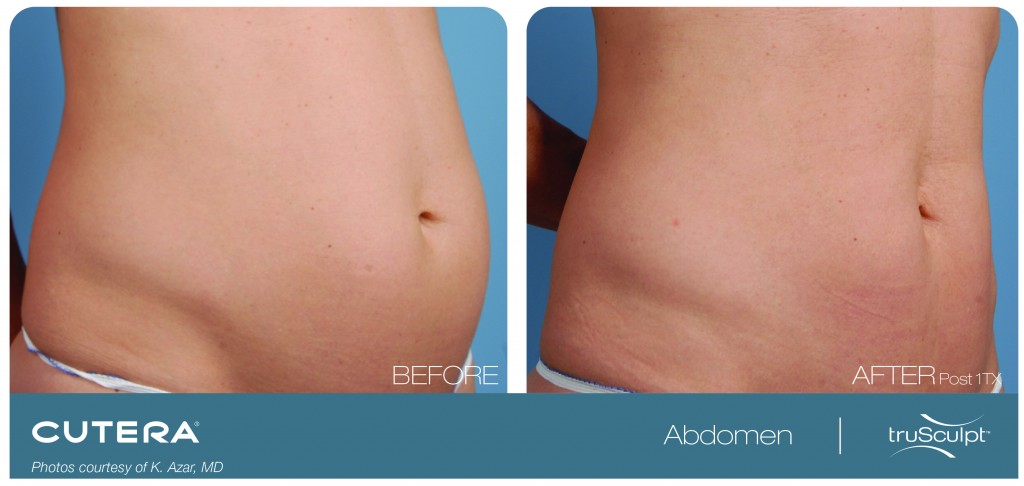 Schedule a consultation at The New U Clinic
To learn more about TruSculpt and to find out if you are a good candidate for the procedure, please use or our online scheduler or call our office at (250) 667-6742 to set up a consultation.
---