Thermage
At The New U Clinic, we use Thermage to non-surgically smooth, tighten, and contour the skin. Treating the signs of aging is no easy feat. People spend hundreds of dollars on creams and gels, never knowing if they will really work. Similarly, some people undergo invasive plastic surgery procedures to regain their youthful appearance.
What is Thermage?
Thermage is a non-invasive, non-surgical treatment that uses radiofrequency therapy to reduce the signs of aging and contour the skin. Because Thermage isn't invasive, there are minimal side effects, as well as little-to-no downtime. This makes it an excellent alternative to plastic surgery.
What is radiofrequency therapy?
Radiofrequency therapy, also known as RF therapy, uses energy to heat up the deeper layers of skin that are filled with collagen. RF therapy transmits energy signals to the target areas, turning the energy into heat and stimulating the collagen.
What is collagen?
Collagen is a protein within the human body that promotes hydration and growth. The more active collagen you have in your body, the more likely your appearance will be youthful and your skin will be glowing. Collagen is responsible for beautiful and blemish-free skin, hair, and nails.
What does the procedure entail?
Using a laser that transmits radiofrequency, Dr. Ute Bucksteg will target your areas of concern. Heating up the target area using RF therapy, the Thermage laser turns energy into heat, stimulating the collagen deep beneath the outer layer of skin. The activation of the collagen causes cell growth and promotes healing. Following treatment, the target areas should tighten and take on a more contoured, youthful appearance. Actual treatment times vary depending upon the areas being treated.
What areas can Thermage treat?
RF therapy is very effective on the following areas:
the face
the eyelids
the back of the hands
the neck
How long does it take to see results?
Result time frames can vary drastically from patient to patient. Generally, final results can be seen anywhere from a few weeks to a couple months after your treatment treatment. From there, your results can last up to a year!
What are the side effects?
RF therapy boasts little to no side effects. In rare cases that side effects do occur, they are usually mild and include minor redness and slight swelling. If side effects do appear, they usually go away within a day or so.
Before and after photos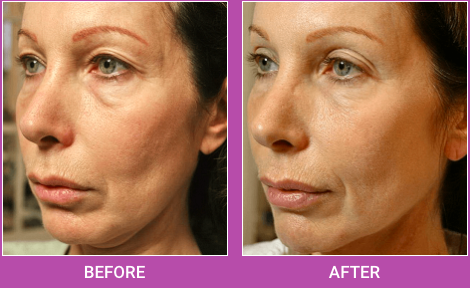 Schedule a consultation at The New U Clinic
To find out if you are a candidate for Thermage, please contact our office at (250) 667-6742 to schedule a consultation with Dr. Ute Bucksteg. You can also schedule online.
---