Laser Hair Removal
At The New U Clinic, we treat unwanted hair using laser hair removal. One of the most in-demand treatments on the market, laser hair removal is popular amongst men and women alike. Unwanted hair is not only troublesome but time-consuming. Shaving, waxing, and bleaching are quick fixes that take up a lot of time and cause a lot of frustration. Dr. Ute Bucksteg uses Cynosure's Vectus, one of the most innovative lasers on the market.
What is laser hair removal?
Becoming commercially available in the 1990s, laser hair removal has been an incredibly popular treatment ever since. Using energy emitted by light, lasers target the melanin within the hair and skin at the specific areas of concern. The laser heats up the hair and breaks down the melanin within it, eventually causing the follicles to stop producing new hairs.
What areas can laser hair removal treat?
The Vectus laser can treat hair on virtually any area of the body. These areas include:
legs
face
arms
bikini area
underarms
back
chest
Is laser hair removal painful?
No, and Dr. Ute Bucksteg will ensure that you feel comfortable during the entire procedure. Many patients report feeling a slight momentary snap during treatments, but it is tolerable. After treatment, you may experience a mild, sunburn-like sensation, possibly accompanied by minor swelling and/or redness. The redness and swelling usually fade within 24 hours.
How long do treatments take?
Treatment times vary drastically depending upon the patient, hair quality/thickness, and areas being treated. Treatments can last anywhere from a few minutes to more than an hour.
Why choose Vectus?
One of the most innovative lasers on the market, the Vectus can treat larger areas in less time. For optimum results, three or more treatments are recommended. Dr. Ute Bucksteg will work with you to create a customized treatment plan.
Are there side effects?
Side effects are minimal. The most common side effects of Vectus include itching, redness, and skin sensitivity.
Before and after photos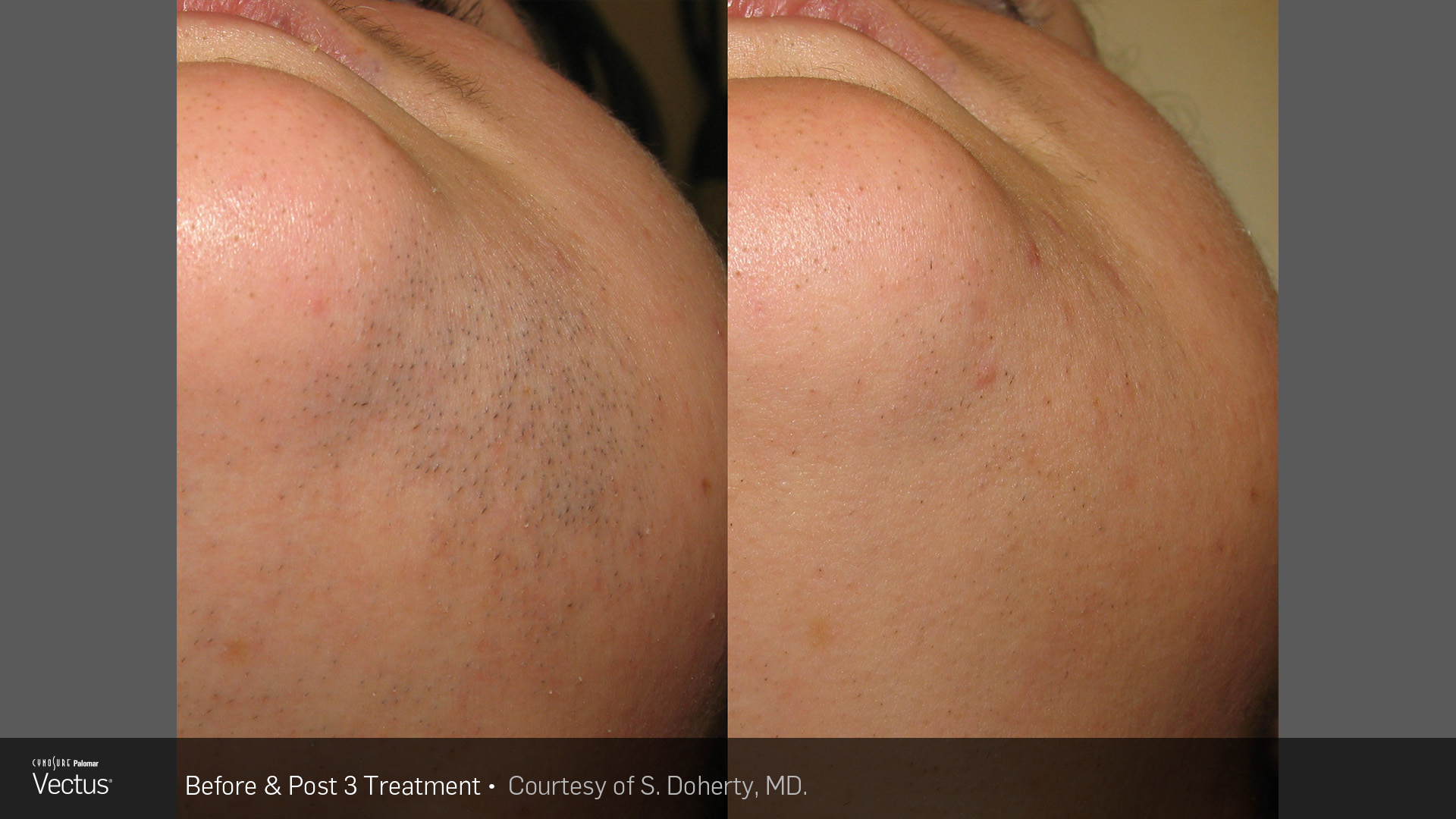 Schedule a consultation at The New U Clinic
To get started with a consultation so that you can discuss Vectus treatments with Dr. Ute Bucksteg, call our office at (250) 667-6742 or use our online scheduler.
---