Isolaz
At The New U Clinic in Nanaimo, we use Isolaz light treatments to get rid of acne for good! Over 5.6 million Canadians suffer from acne. Furthermore, there is no one, fix-all remedy for acne. Every patient's skin is different. Finding the perfect treatment can be one of the trickiest parts to fighting acne.
What is acne?
Acne, one of the most common skin conditions in Canada, is caused when hair follicles beneath the skin get clogged with oil and dead skin cells. It is a chronic skin condition that affects some people more than others. Most commonly occurring during puberty and throughout adolescence, acne can also continue well into adulthood. Acne can be brought on by a myriad of things including: genetics, stress, anxiety, menstrual cycles, different types of makeups, medications, and shifts in weather.
What is Isolaz light therapy?

This innovative acne treatment uses a combination of vacuum therapy, broadband light, and a topical treatment to target the root causes of acne and create lasting results. Isolaz uses the "CPR" strategy.
What is the CPR strategy?
Isolaz has their own acronym that is the foundation of their treatment, which is "CPR". Their fundamental acronym stands for the core regimen behind their treatment: cleanse, purify and replenish. The cleanse portion of the strategy uses the vacuum to loosen and remove dirt and oil from deep within the pores. The "P" stands for purify. The broadband light therapy destroys the bacteria that causes acne, as well as reduces facial redness. This ultimately purifies the skin. Last, but not least, is "R" for replenish. Topical treatments are applied after the previous parts of the procedure to improve the overall results of the treatment.
Why choose Isolaz?
Isolaz is the most innovative acne treatment on the market. Putting aside previous long-term treatment options like oral medications and skincare regimens, it focuses on a three-part, in-office treatment to provide long-lasting results. Available for all skin types, Isolaz offers fast treatments with results that show up within a matter of days. It's also shown to be effective on patients who have found that previous acne treatments were unsuccessful.
Before and after photos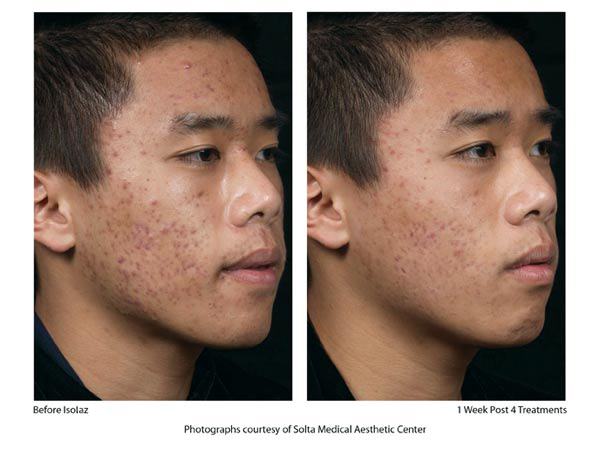 Schedule a consultation at The New U Clinic
To find out if you are a candidate for Isolaz, set up a consultation using our online scheduler or call our office at (250) 667-6742. We look forward to helping you get rid of your acne!
---