Clear + Brilliant
At The New U Clinic in Nanaimo, we use Clear + Brilliant to keep your skin looking its best. Keeping your skin looking youthful and complexion glowing is no easy feat. Throughout adolescence and adulthood, genetics, lifestyle factors, and even stress can cause blemishes and bring on signs of aging. Luckily, Clear + Brilliant is a safe, non-surgical solution.
What is Clear + Brilliant?
Clear + Brilliant is an innovative laser treatment that uses fractional laser technology to treat a myriad of skin concerns, especially the signs of aging. Using heat, the laser creates tiny treatment areas in the skin, encouraging the growth of new skin cells and the production of collagen.
Which areas of the body can Clear + Brilliant treat?
This cutting edge laser can be used on virtually any part of the body. Common treatment areas include: the face, neck, hands, back, and arms.
What can this laser treatment address?
This laser can be used to treat:
fine lines
age spots
sun damage
enlarged pores
hyperpigmentation
Is the treatment painful?
Most patients report little to no discomfort. However, if the patient is concerned about pain or has sensitive skin, a topical anesthetic cream may be applied before the procedure to alleviate discomfort.
How long does it take for results to show up?
Results generally begin to appear within a week. Signs of improvement may take more or less time depending upon the patient and treatment area.
Is there any downtime or side effects?
Patients are generally able to return to their normal routine following treatment. Side effects are rare. However, some patients have reported redness, swelling, and skin sensitivity following treatment. However, these side effects generally dissipate the same day.
Who is not a good candidate for this treatment?
Some patients should not have this treatment. This includes:
patients who are pregnant
patients who are on medication that discourages exposure to sunlight
patients that suffer from diseases that cause photosensitivity
patients on certain medications
Be sure to thoroughly review your medical history, as well as current and past medications, with Dr. Ute Bucksteg during your consultation.
Before and after photos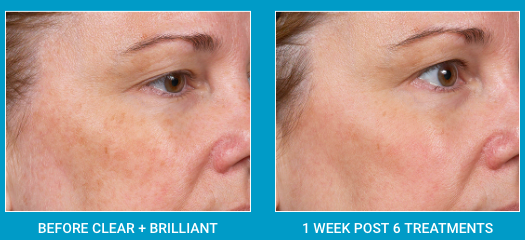 Schedule a consultation at The New U Clinic
To find out if you are a candidate for Clear + Brilliant laser treatment, please contact our office at (250) 667-6742 or use our online scheduler to set up a consultation with Dr. Ute Bucksteg. We look forward to seeing you!
---